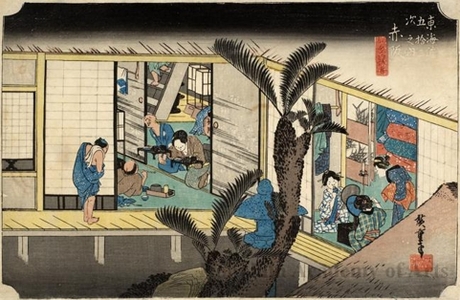 Artist: Utagawa Hiroshige
Title: Akasaka (Staion #37)
Date: c. 1833 - 1834
Details: More information...
Source: Honolulu Museum of Art
Browse all 5,435 prints...
Description:
This print was conserved with the support of the Robert F. Lange Foundation. Here Hiroshige offers a voyeuristic look from behind a sago palm and stone lantern, above a neighboring thatched roof, into the goings on at an unidentified teahouse in Akasaka, one station past Goyu (today both are part of Toyokawa City in Aichi, Japan). This print reminds one of the Akasaka scene in Adventures Down the Tökaidö in which Yaji and Kita stop at a teahouse inn for the night. The two men on the left, one returning from the bath, one lounging with kiseru pipe and sake, are presumably Kita and Yaji. In the story, as depicted in this print, the two are served dinner. Details that add to the Hizakurige atmosphere in the viewer's mind are the blind masseur kneeling next to the server and the country geisha applying makeup and talking in the next room. In the story, when the establishment settles down for the night Yaji and Kita peep through sliding paper doors into an adjoining room where newlyweds are making love. The protagonists become so excited that they end up knocking the doors out of their grooves, falling into the next room. Yaji makes a clean getaway, leaving Kita to answer for the alarming intrusion: "Listening to them sleep, splendid to find them in love! Like the printed paper, torn away was the latch on his jaw."