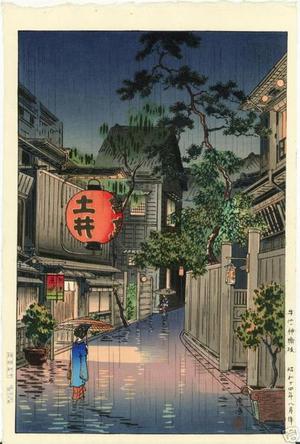 Artist: Tsuchiya Koitsu
Title: Evening at Ushigome
Date: 1939
Details: More information...
Source: Japanese Art Open Database
Browse all 17,130 prints...
Description:
Koitsu, Tsuchiya- Evening at Ushigome- Full24.jpg: Sunday, 27 November 2005 Japanese woodblock print by Koitsu. Evening at Ushigome. Doi Eiichi, Harada/Seki. Probably a later edition, purchased by the consignor over 20 years ago, dated 1936. 17" x 11 1/8". I'm holding sales about twice a month. Most of the prints I sell are large consignments from old Western collections. We get the referrals from the East coast museums (Met, MFA, Princeton, etc.). I am not selling picked-over stock secondhand ? it goes direct from the consignor to you and we take 15%.