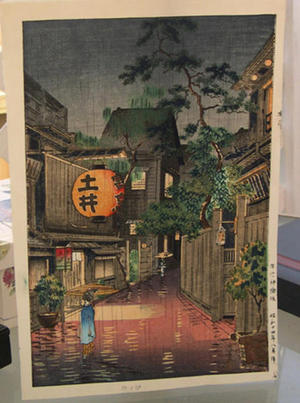 Artist: Tsuchiya Koitsu
Title: Evening at Ushigome
Date: 1939
Details: More information...
Source: Japanese Art Open Database
Browse all 17,130 prints...
Description:
Koitsu, Tsuchiya- Evening at Ushigome- Full16.jpg: Monday, 25 July 2005 A beautiful print from a 1930's woodblock by Koitsu Tsuchiya. The English title is Evening at Ushigome. This print carries the Doi seal that means "true" in the lower right hand corner of the print. The size is 28 X 41 cm or 11 X 17. Written in pencil at the lower margin of the print is 32 X 46 and I assume that was a size for the mat. The mat will be included with the print. There is not a publisher or carver seal on the left margin and this usually means that it is a 1950's print from the original woodblock by a publisher loosely affiliated with Doi. However, Doi sometimes allowed his printers to print their own copies of these prints so your guess is as good as mine. Further, the printer and carver seals are not part of the original woodblock. They are put on after the print is completed. During the Second World War, there were prints made without the seals. There is Japanese writing along the margin of the right side of the print and is most likely the title of the piece. Note the picture of the reverse side of the print and you can see the colors bleeding through. The condition is excellent with vivid colors and is on Japanese paper. It comes with a paper mat. There are two tiny splits in the paper about 1/8 inch in size.