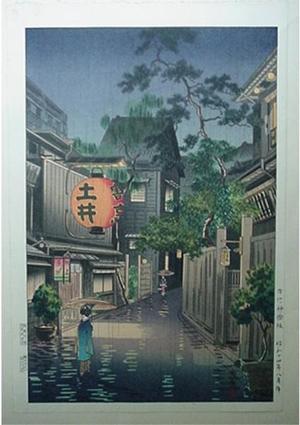 Artist: Tsuchiya Koitsu
Title: Evening at Ushigome
Date: 1939
Details: More information...
Source: Japanese Art Open Database
Browse all 17,130 prints...
Description:
Koitsu-Evening at Ushigome- Koitsu-Evening at Ushigome- Hangaten_Harada_Yokoi- Full28.jpg is: This is a beautiful woodblock print by shin hanga master Tsuchiya Koitsu. It is entitled "Twilight at Ushigome", and it dates from 1936. It is an early printing, as evidenced by the seals of the carver and printer, Harada and Yokoi. This print is in pristine condition, the nicest example of this image I have ever seen. It is still in its original presentation folder, and even the folder is in excellent condition. Crisp impression, superb color, clean white paper, a truly stellar example. Kept in original folder, never framed, never exposed to sunlight or the elements.