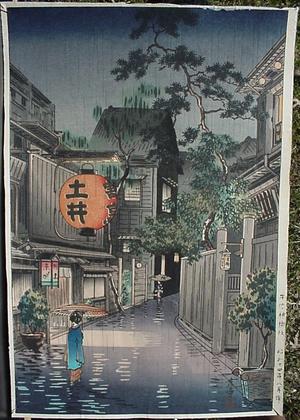 Artist: Tsuchiya Koitsu
Title: Evening at Ushigome
Date: 1939
Details: More information...
Source: Japanese Art Open Database
Browse all 17,130 prints...
Description:
The artist is Tsuchiya Koitsu as signed. Paper is about 15 3/4" by 10 3/4". Great color and bleedthrough. Print's margins have residue that does not intrude into image (except top right edge about 1/8" into image in a couple of spots along an 1 1/2" long waxy remnant that should easily remove if you exercise caution and care). Be certain to click BIG PHOTO above to see HUGE DETAIL photo of print. Also, on all four (4) corners there are diagonal cuts into the print. Three (3) of these cuts intrude into image a maximum of 3/8".