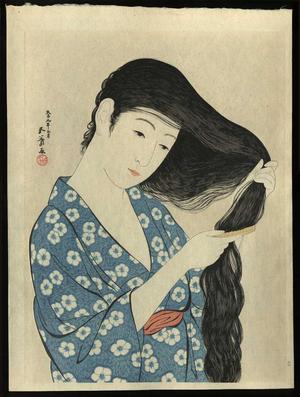 Artist: Hashiguchi Goyo
Title: Woman Combing her Hair — 髪すける女
Date: 1920
Details: More information...
Source: Japanese Art Open Database
Browse all 17,130 prints...
Description:
Kami Sukeru Onna (Woman Combing Her Hair) by Hashiguchi Goyo. Genuine woodblock print. Print is dated June Taisho 9 (1920). Later impression. Very good condition. Foxing as shown in scan. Fine color and impression. Never been framed. 18.8 x 13.9 inches. Mica background. Good ink bleedthrough. Yuyudodehan publisher's seal, Maeda carver's seal and Ito Chujo printer's seal on verso. Compare to print on page 43 of the book "The Female Image 20th Century Print of Japanese Beauties". Original presentation folio included.