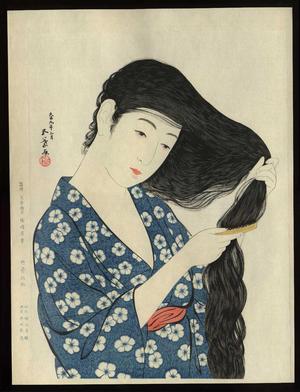 Artist: Hashiguchi Goyo
Title: Woman Combing her Hair — 髪すける女
Date: 1920
Details: More information...
Source: Japanese Art Open Database
Browse all 17,130 prints...
Description:
Kami Sukeru Onna (Woman Combing her Hair) by Hashiguchi Goyo. Genuine woodblock print dated March Taisho 9 (1920). Later Showa era impression. Near perfect condition. Nice ink bleedthrough. Nice mica background. Goyo characters and red seal, and date in left of image. 18.8 x 14.3 inches. Narazaki supervisor's seal, carver's and printer's seal in leftt margin. One of Goyo's best bijin scenes. Comes with original presentation folder.