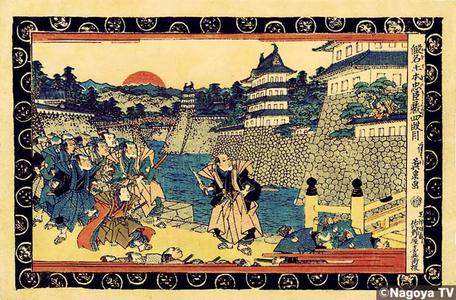 Artist: Keisai Eisen
Title: Act 4 Hokan's Hara-kiri
Date: Not set
Details: More information...
Source: Japanese Art Open Database
Browse all 17,130 prints...
Description:
Eisen Act 4 HokanOs Hara-kiri (161-1-4, 161-5-2) Hokan is taken to EnyaOs mansion where he is sentenced to commit hara-kiri. HokanOs chief retainer Oboshi Yuranosuke (representing Oishi Kuranosuke) rushes to be with Hokan during his final moments, and with the will of his lord, vows his vengeance. He subdues the hot blooded samurai, and surrenders the building. Hokan is outside the castle gates, with the short sword used for hara-kiri in hand, with the formally dressed Yuranosuke watching as the castle surrenders.