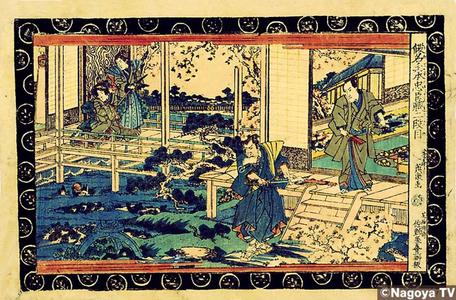 Artist: Keisai Eisen
Title: Act 2, Momoikan, Striking the Pine
Date: Not set
Details: More information...
Source: Japanese Art Open Database
Browse all 17,130 prints...
Description:
Eisen Act 2, Momoikan, Striking the Pine (161-1-2) Oboshi Rikiya attends the next morningOs castle attendance session of MomoiOs chief retainer Kakogawa Honzo as a messenger from Momoi. HonzoOs daughter Konami is RikiyaOs betrothed. Her mother TonaseOs plotting allows a meeting between Konami and Rikiya. Then Wakasanosuke makes his intent to kill Moronao known to Honzo. Honzo understands his lordOs determination and shows his agreement by striking a pine branch with his sword, growing all the more fervent. The print shows Honzo in the garden striking a pine branch with his short sword.