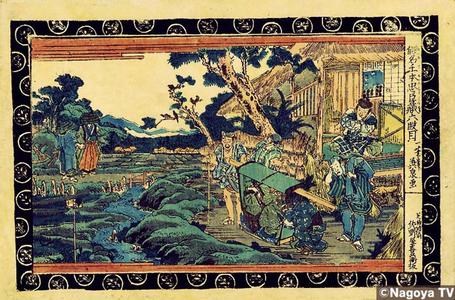 Artist: Keisai Eisen
Title: Act 6, Yoichibei's Home
Date: Not set
Details: More information...
Source: Japanese Art Open Database
Browse all 17,130 prints...
Description:
Eisen Act 6, YoichibeiOs Home (161-1-6, 161-2-2) Kanpei returns home to find that Okaru has been sold in his absence, and when he hears that Yoichibei has been killed, he imagines that the night before he had killed his own father-in-law. When YoichibeiOs body is brought home, his widow blames Kanpei for the crime of killing his father-in-law, and as he cannot bear the accusations, he decides to commit hara-kiri. But, once the situation is made clear by the difference between the sword wounds and the bullet wound, he realizes that he has killed his father-in-lawOs enemy. Kanpei seals his jointly sealed vengeance compact in blood and then dies. The print shows Kanpei and Okaru in their sadness at parting.