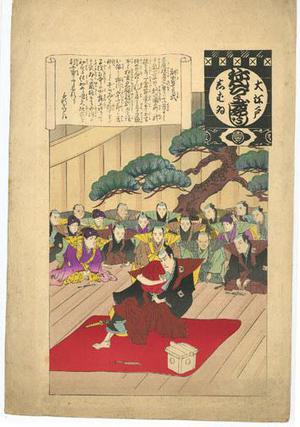 Artist: Adachi Ginko
Title: Kabuki Ceremony
Date: ca 1887
Details & Prices: More information...
Source: Robyn Buntin of Honolulu
Browse all 4,310 prints...
Description:
This print is from the series titled "The Calendar of Events in Edo Theater" by Adachi Ginko (1874-1897) dated in the left margin Meiji 30 (1897). The series depicts various scenes and events surrounding kabuki theater. This image illustrates the actor Ichikawa Danjuro performing a stage ceremony in front of other leading actors. A description of the scene is in the white cartouche at the top. The series title is at the upper right.