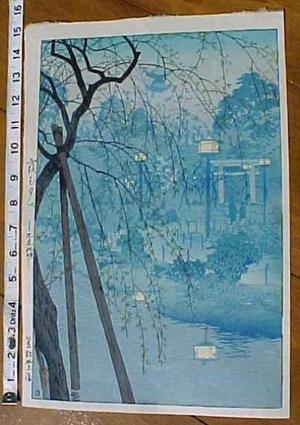 Artist: Kawase Hasui
Title: LAMPLIGHT STROLL
Date: Not set
Details: More information...
Source: Japanese Art Open Database
Browse all 17,130 prints...
Description:
This 15.5" x 10" print is in Great Condition with Great ink saturation to the back. There is no foxing rips or tears...There are some residual tape residue remaining on the back and only one bit of tape bleed through on the front lower edge. The margins are good. There appears to be a 6mm Watanabe seal in the lower corner of the print and an artist seal. There is an inscription along the edge of the print with possibly a signature.