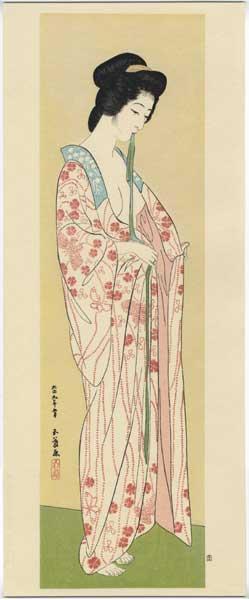 Artist: Hashiguchi Goyo
Title: Woman Dressing- Woman in a Long Undergarment — 長襦袢を着たる女
Date: 1920
Details: More information...
Source: Japanese Art Open Database
Browse all 17,130 prints...
Description:
Beauty in a Long Undergarment, 1920 Hashiguchi Goyo, 20th century master- With the permission of Goyo's heirs, a couple small commemorative runs of his prints were produced. These prints are also very rare today. But, they offer an opportunity to collect a Goyo woodblock reprint at a cost more in line with most collectors' budgets. These reprints were produced to the same exacting standard of Goyo's originals. Expert carvers were contracted to produce the highest quality wood blocks and printers meticulously reprinted Goyo's originals with the same attention to quality and detail. These reprints are on beautiful, hand made paper printed with the same colors and mica detail as Goyo's originals. The prints offered tonight in our auctions are from one of those reprint sets. This Print; Beauty in a Long Undergarment- A jewel of the 20th century print period, this Goyo masterpiece is one of his most well known images. The young beauty is shown dressing after a bath. The long narrow format of this print accentuates her slender figure. In this print, the pale background is printed with a shimmering mica ink just like the original- a fantastic effect. A wonderful print that captures the essence of Goyo's genius, considered a Japanese woodblock masterpiece. Signed- Goyo-ga Image size- 10 3/8" x 15 1/4" (+ full margins) Sheet size- 7 3/4" x 19" Condition- Perfect condition with no flaws to note. Excellent color, no fading, fine linework. This print has been stored only, never framed.