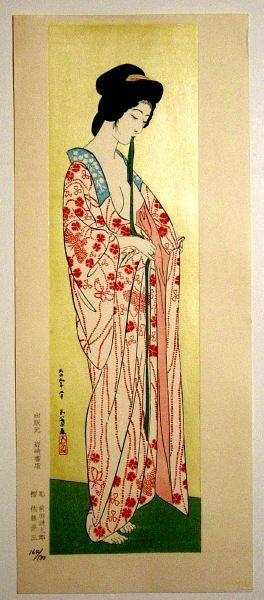 Artist: Hashiguchi Goyo
Title: Woman Dressing- Woman in a Long Undergarment — 長襦袢を着たる女
Date: 1920
Details: More information...
Source: Japanese Art Open Database
Browse all 17,130 prints...
Description:
You are bidding on a Japanese woodblock print "Woman Dressing" signed by the famous Shin-Hanga artist Hashiguchi Goyo (1880-1921). It says May Taisho 9 (1924) above the artist's signature at the lower left side of the print close to the border. This woodblock print is a part of a large number of Asian art and Japanese woodblock print collections in my family. We are gradually selling them. The size of this woodblock print is 20 1/4 x 8 1/4 inches. The colors, which are vivid and vibrant, are in layers. This woodblock print is not attached to any backing paper or cardboard. Ink bleeding can be seen through the back of the Japanese mulberry Washi paper. All four borders are intact. There are chop marks in the lower left border, which describes the publisher, carver, and printer. There is also a hand-writing in ink 164/180 underneath the chop marks. I guess this is the 164th print out of total 180. There is a crease horizontally across the upper middle of the print, on the woman's breast. Except this, there are no defects, foxing, or stains. This woodblock print is in excellent condition. I am not sure about the age of this print because Taisho 9 was 79 years ago.