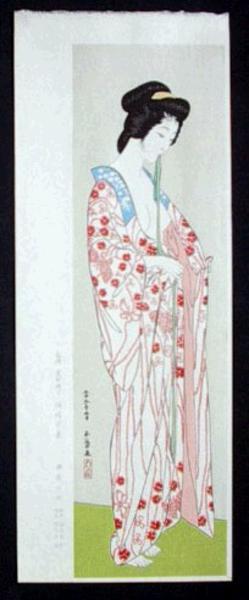 Artist: Hashiguchi Goyo
Title: Woman Dressing- Woman in a Long Undergarment — 長襦袢を着たる女
Date: 1920
Details: More information...
Source: Japanese Art Open Database
Browse all 17,130 prints...
Description:
Woman Dressing, 1920 (fine 1970's woodblock reprint) Hashigushi Goyo (1880 - 1921) Woman Dressing- Some consider this simple, yet elegant image Goyo's masterpiece. The young beauty is putting on a soft cotton robe after the bath. Her hair is pinned loosely up, a few strands fall casually forward. Her skin is a perfect smooth white and the robe falls from her shoulders exposing a hint of her breasts- incredible design. The soft colors, heavy paper and careful attention to detail reflect the quality of this print. This is truly a Japanese woodblock masterpiece. This image is one of the most sought after prints in the market. If you would love to own a classic Goyo, but find the original out of your price range, this is a fantastic opportunity to own an exact woodblock reprint. This Goyo reprint- In the 1970's a small group of woodblock reprints were made of Goyo's incredible images. His prints are so rare and sought after, these prints offered an opportunity to have a Goyo print without the expense of an original. Original Goyo images sell in the $7,500 - $20,000 range (this print being in the more expensive category). This print is a unique opportunity and a great value. These prints of Goyo's works are the only woodblock reprints ever produced of his prints and are very hard to come by. This print comes with both original folders. It is in the original heavy rag presentation inner folder which fits inside a titled outer folder. See photo with inner folder.