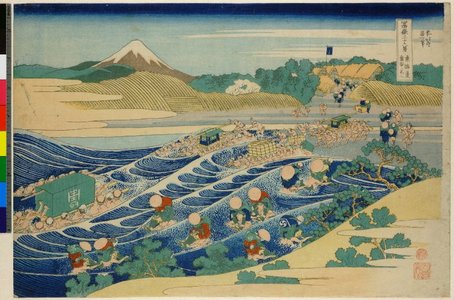 Artist: Katsushika Hokusai
Title: Tokaido Kanaya no Fuji 東海道金谷ノ不二 (Fuji from Kanaya on the Tokaido Highway) / Fugaku sanju-rokkei 冨嶽三十六景 (Thirty-Six Views of Mt Fuji)
Date: 1830-1833
Details: More information...
Source: British Museum
Browse all 9,127 prints...
Description:
Colour woodblock oban print. View at Oi River: Freight and palanquins ferried on rafts by teams of loin-clothed 'river-crossers'; individual travellers carried on bare shoulders, legs held up forwards out of water; Mt Fuji in distance. 1 of 3 impressions. Inscribed, signed, sealed and marked.