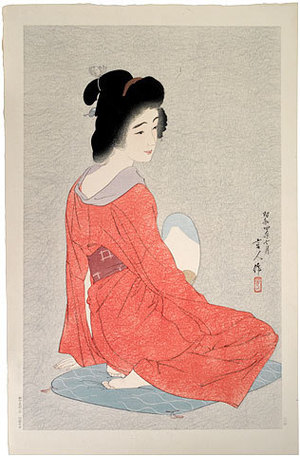 Artist: Torii Kotondo
Title: Long Undergarment (grey ground, no pattern on kimono) (Nagajuban)
Date: 1929
Details & Prices: More information...
Source: Scholten Japanese Art
Browse all 854 prints...
Description:
Dated and signed Showa yonen shichigatsu (Showa 4 [1929], 7th month) Kotondo ga, with artist's seal Torii. The title, Nagajuban, embossed at center of lower margin. Published by Kawaguchi and Sakai. The publisher's seal Sakai-Kawaguchi at lower left corner, and again Kawaguchi (in katana) at lower right corner. With embossed edition stamp hand-numbered on verso, San-hyaku mai kagiri zeppan, ni-hyaku sanjuhachi go (300 limited edition, number 238).