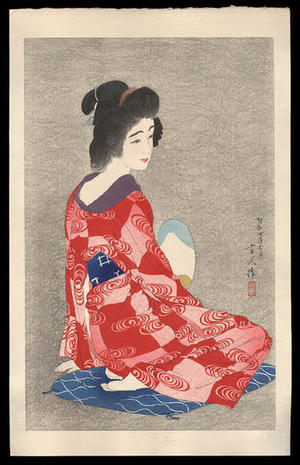 Artist: Torii Kotondo
Title: Nagajuban- Long Undergarment — 長襦袢
Date: 1929
Details: More information...
Source: Japanese Art Open Database
Browse all 17,130 prints...
Description:
Artist: Torii Kotondo (1900-1976) Description: Nagajuban, or "Long Undergarment." This print exists with several colour variations. Here, the swirling marks left purposefully by the printer's baren in the gray background provide a strong textural counterpart to the brilliant red pattern in the robe. Signed: Kotondo saku. Dated and signed Showa yonen shichigatsu (Showa 4 [1929], 7th month) Kotondo ga, with artist's seal Torii. The title, Nagajuban, embossed at center of lower margin. Published by Kawaguchi and Sakai. The publisher's seals Sakai Kawaguchi go ban (joint venture) embossed at lower left corner. With limited edition paper label hand-numbered on verso, Gaikoku yuki ni-hyaku mai kagiri zeppan, dai rokujusan go, Torii Kotondo (for foreign export, limited edition of 200 printed, number xx, by Torii Kotondo) with artist's red circular seal Kotondo. Size: 408 x 261mm (image size). Notes from Ross: My analysis suggests Sakai/Kawaguchi sold this scene until around edition 130, then passed the remaining stock to Kawaguchi, some with edition labels already attached. 2012: Editon 137 with Sakai/Kawaguchi seals and editioning was sold by Kawaguchi to an American collector before 1936 (collection came to America in 1935), so the transfer of stock to Kawaguchi occurred before edition 137 for this scene.