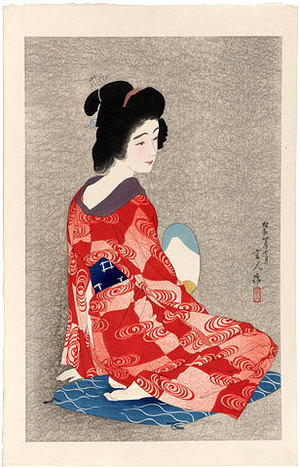 Artist: Torii Kotondo
Title: Long Undergarment (darker grey background) (Nagajuban)
Date: 1929
Details & Prices: More information...
Source: Scholten Japanese Art
Browse all 854 prints...
Description:
Dated and signed Showa yonen shichigatsu (Showa 4 [1929], 7th month) Kotondo ga, with artist's seal Torii. The title, Nagajuban, embossed at center of lower margin. Published by Kawaguchi and Sakai. The publisher's seals Sakai Kawaguchi go ban (joint venture) embossed at lower left corner. With limited edition paper label hand-numbered on verso, Gaikoku yuki ni-hyaku mai kagiri zeppan, dai rokujusan go, Torii Kotondo (for foreign export, limited edition of 200 printed, number 63, by Torii Kotondo) with artist's red circular seal Kotondo.