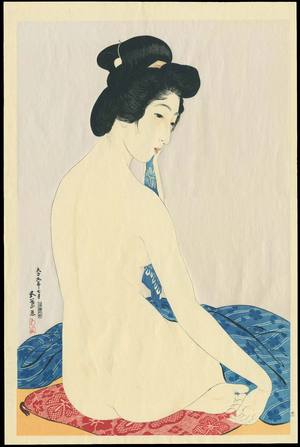 Artist: Hashiguchi Goyo
Title: Woman after a Bath (Delicate Skin) - 化粧の女 (やわはだ)
Date: 1920
Details & Prices: More information...
Source: Ohmi Gallery
Browse all 2,569 prints...
Description:
Woman after a Bath by Hashiguchi Goyo. Genuine woodblock print. Print is dated August Taisho 9 (1920). Later impression circa 1970s/80s. Compare to image on page 46 of the book "The Female Image 20th Century Print of Japanese Beauties". This print is close to double-oban size. Goyo's signature and seal, and original date within the image area. Yuyudo publisher's seal lower right margin, Maeda printer seal and carver seal verso.