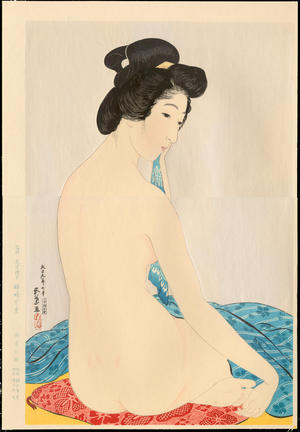 Artist: Hashiguchi Goyo
Title: Woman after a Bath (Delicate Skin) - 化粧の女 (やわはだ)
Date: 1920
Details & Prices: More information...
Source: Ohmi Gallery
Browse all 2,569 prints...
Description:
Woman after a Bath by Hashiguchi Goyo. Genuine woodblock print. Print is dated August Taisho 9 (1920). Later impression from a limited edition. Narazaki supervisor's seal, Tanseisha publisher's seal, Suzuki printer's seal and Uetani carver's seal in left margin. Compare to image on page 46 of the book "The Female Image 20th Century Print of Japanese Beauties". This print is close to double-oban size, and comes with its original deluxe folder with windowed front matte and fine washi print coverslip. Goyo's signature and seal, and original date within the image area. This is a set item. Please see the set details here.