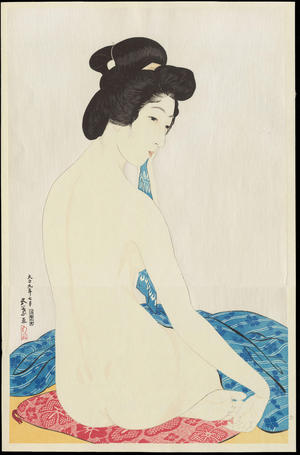 Artist: Hashiguchi Goyo
Title: Woman after a Bath - 化粧の女
Date: 1920
Details & Prices: More information...
Source: Ohmi Gallery
Browse all 2,569 prints...
Description:
Woman after a Bath by Hashiguchi Goyo. Genuine woodblock print. Publisher seal in right margin and on verso. Compare to image on page 46 of the book "The Female Image 20th Century Print of Japanese Beauties". This print is close to double-oban size, and comes with its original deluxe folder with windowed front matte. The print is not mounted to the folder, so it can be easily removed for storage or display. Goyo's signature and seal, and original date within the image area. Set details This is a complete album set issued as a limited edition by the publisher Yuyudo. The edition number 189 is written on the inside cover of the included deluxe blue canvas tatou album that holds all six prints in their deluxe windowed folders. The edition number is not written on the prints. Included are two of the original pamphlets describing the set. This is a rare complete set, the first I have seen in a decade, and as such I want to sell it complete. The price is at a considerable discount to the individual print prices.