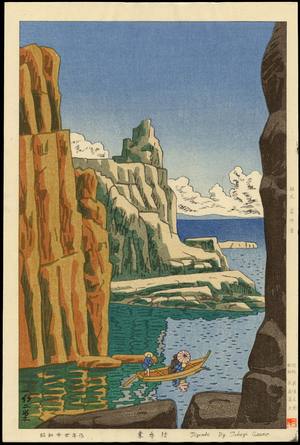 Artist: Asano Takeji
Title: Tojinbo - 東尋坊
Date: 1949
Details & Prices: More information...
Source: Ohmi Gallery
Browse all 2,569 prints...
Description: This is a picturesque view of the famous seaside rocky outcrops at Tojinbo in Fukui Prefecture, in oban tate-e format by Takeji Asano. This print is a rare first edition, as indicated by the printing of the date in the bottom margin. To date, no subsequent editions have been published. In the right margin are Asano's red artist seal, Unsodo publisher's seal, Shinmi printer's seal, and Nagashima carver's seal. Takeji signature in lower left of image. English and Japanese titles in the bottom margin.