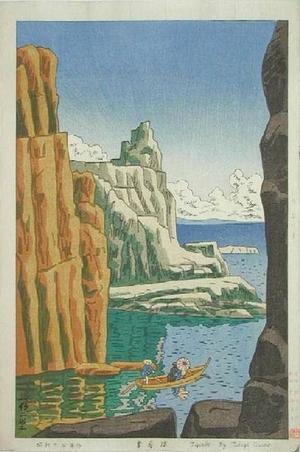 Artist: Fujishima Takeji
Title: Tojinbo
Date: 1949
Details: More information...
Source: Japanese Art Open Database
Browse all 17,130 prints...
Description: Japanese Woodblock by Asano "Tojinbo" (1949) A striking scene titled in Japanese kanji (bottom margin) as "Tojinbo" which translates same in English as "Tojinbo" (location name) by Takeji Asano (1900-2002). Bears artist's "signature" in lower left corner of image. Publisher is Unsodo, with the carver/printer seals of Nagashima/Shinmi seen in lower right margin. Print is an original first-edition printing, indicated by the right margin's "kanji margin-dating" of "Showa 24," or 1949?since ONLY "first edition" prints are known to have such margin-dating?and additionally, it has recently been learned that only 100 such dated "first edition" prints were ever produced. Circa 1949?first edition. Seldom seen, the presence of this print's original ("kanji") "margin-dating" seen in the mid right margin indicates that this print to be a FIRST EDITION printing. To learn more about the dating of editions and prints by Unsodo Publisher, click the following link about "Unsodo Publisher." Nicely printed?superbly executed "bokashi" (gradation of color) throughout the print; and life-like reflection in water. Crisp, sharp "key-lines." Excellent "bleed-through" of colors to backside. Print is in very good condition?no tears, no fading, clean backside?does slight "age toning" typical of older prints. Image measures 9 1/4 x 14 ? inches.