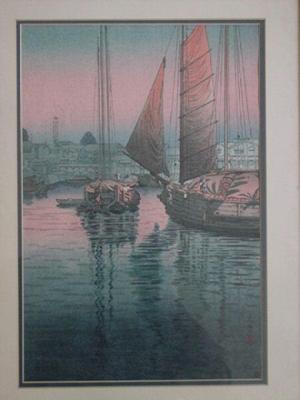 Artist: Tsuchiya Koitsu
Title: Sunset at Tomonotsu, Inland Sea
Date: 1940
Details: More information...
Source: Japanese Art Open Database
Browse all 17,130 prints...
Description:
This is a beautiful original woodblock print by noted Japanese printmaker Tsuchiya Koitsu. The print bears the Watanabe publisher's round 6mm seal, indicating that it is a true early postwar (lifetime of the artist) edition. The color and impression are excellent, condition appears very nice as well. Oban size, about 14 1/2 x 9 1/2 (image size).