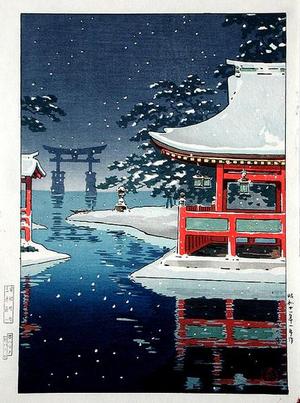 Artist: Tsuchiya Koitsu
Title: Snowy Miyajima — 雪の宮島
Date: 1936
Details: More information...
Source: Japanese Art Open Database
Browse all 17,130 prints...
Description:
Koitsu-Snowy Miyajima- Eiichi-Harada-Hamano.JPG is: "Itsukushima Shrine" - 1936 Chuban Image size 11.25" x 8.25" Condition Pristine. Never laid down. Strong bleedthrough to verso. No folds, no tears, no creases, no foxing. Master Koitsu is regarded by most to be on par with HASUI. His classic Shin Hanga have gained world-wide acclaim. Master Koitsu is reknowned for his mastery of dramatic use of light and shadow. Authenticated by Master Koitsui's signature, Doi Eiichi seal, watermark and the all-important double-offset Harada/Hamano seal.