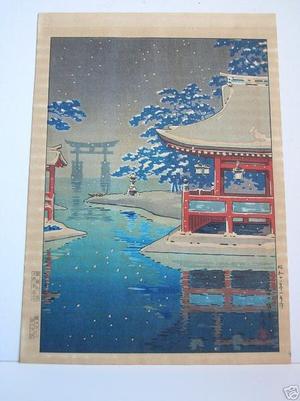 Artist: Tsuchiya Koitsu
Title: Snowy Miyajima — 雪の宮島
Date: 1936
Details: More information...
Source: Japanese Art Open Database
Browse all 17,130 prints...
Description:
Wednesday, 31 August 2005 For auction is this old Japanese woodblock print by Tsuchiya Koitsu, measuring 11.5" tall by 8" wide. Im not sure if it is a first edition, but I was told that it is because of the publisher information, signature and watermark at the upper left. I myself am not an expert on Koitsu - I leave it up to the Ebay world, but it is an old print. The title is Yuki no Miyajima, or snowy Miyajima (an island off Hiroshima). It is signed Koitsu and with a seal, published by Doi Hanga Ten, carved by Harada and printed by Yokoi. Dated Showa 11 or 1936. The print has overall browning from a bad old mat it was stuck on while it was framed. This makes the print a bit darker than it should be and there are spots where it didn't discolor as badly, so it has some spotting. No rips or tears though, and not trimmed either.