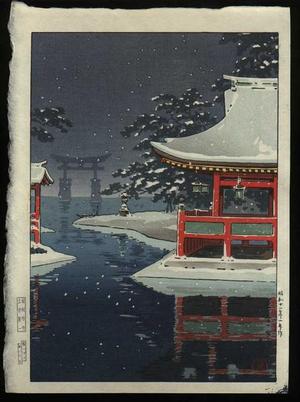 Artist: Tsuchiya Koitsu
Title: Snowy Miyajima — 雪の宮島
Date: 1936
Details: More information...
Source: Japanese Art Open Database
Browse all 17,130 prints...
Description:
Yuki no Miyajima (Snow at Miyajima) by Tsuchiya Koitsu. Genuine woodblock print dated January Showa 11 (1936). Later impression from original blocks. Fine condition. Date in right margin. Title, Koitsu characters and red shin seal in lower right of image. Doi publisher's seal, Hamano printer's seal and Harada carver's seal in left margin. Nice color. Strong ink penetration on fine washi.