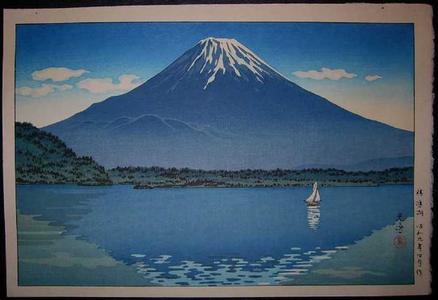 Artist: Tsuchiya Koitsu
Title: Shoji Lake (Mt Fuji) — 精進湖(しょうじ)
Date: 1934
Details: More information...
Source: Japanese Art Open Database
Browse all 17,130 prints...
Description:
Koitsu, Tsuchiya- Shoji Lake (Mt Fuji)- Full11.jpg: Monday, 16 May 2005 What a spectacular view of Mount Fuji! The image is of mountain with the late afternoon sun behind and somewhat to the right of Fugi, The light from near the horizon silhouettes the profile and highlights the snow at the peak. Fuji casts a shadow self in the water almost as dark as itself. These shadows only hint at foothills. The whole woodblock is composed of delicate gradations of blue and green, punctuated only by a sailboat and its reflection. The reflections are pure Koitsu technique, unique to his art, subtle intermingling of shades and shapes. Artist: Tsuchiya Koitsu 1876-1950 Date: original image September, 1934; this image is probably posthumous Publisher: Doi Hangaten Impression: Very Good; beautiful shading in water, mountain, and sky. Colors: Excellent Condition: Excellent Size: 14 3/8" x 9 3/8" approx.