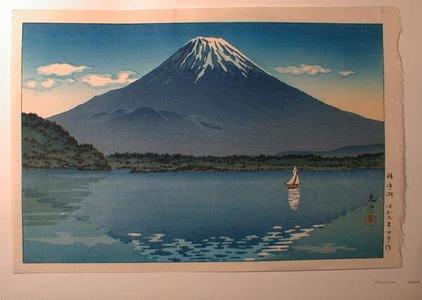 Artist: Tsuchiya Koitsu
Title: Shoji Lake (Mt Fuji) — 精進湖(しょうじ)
Date: 1934
Details: More information...
Source: Japanese Art Open Database
Browse all 17,130 prints...
Description:
Japanese woodblock print by Koitsu Tsuchiya (1870-1949) entitled "Shojin Lake." Originally published in 1934; margin is dated "Showa 9." Later Hama impression posthumously printed from Koitsu's original blocks. These later editions are identical to the earlier editions except for the publisher's seal. With their intense realism, Koitsu's woodblock prints have immortalized his country's scenic beauty. Subtle effects of light and shadow endow his scenic renderings with an aura of captivating beauty, making his prints highly prized among collectors. The workmanship in both carving and printing is very good. Skillfully executed changes of color shading ("bokashi") are seen throughout the print. Pristine condition, with excellent color and registration, and strong ink bleed through. Oban size image measures 14 ?" 9 ?", plus full margins.