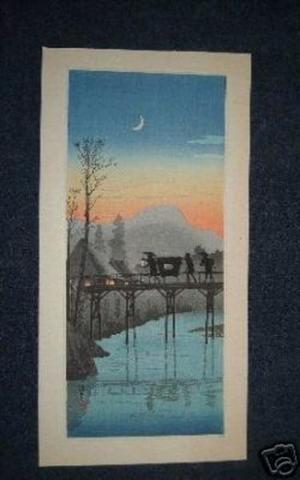 Artist: Shotei Takahashi
Title: Sakawa Bridge in Evening- V2
Date: 1930
Details: More information...
Source: Japanese Art Open Database
Browse all 17,130 prints...
Description:
Wednesday, 19 April 2006 Offered is beautiful Japanese woodblock print by the 20th century shin hanga master Takahashi SHOTEI (1871-1945). This is a tanzaku size print 14 7/8" x 6 3/8" titled "Evening Glow at Sakawa Bridge." A small group of travellers, backlit by the golden glow from the sunset, are crossing a countryside bridge and approaching a local inn. The print dates from the early 1930's and appears in the 1936 Watanabe catalogue. The publisher is Watanabe Shozaburo. The print is in pristine condition and has never been mounted. The margins are thin, typical of these Watanabe prints. The print is tipped at the top corners to the presentation matt. Great bokashi shading and delicate sunset pastels help create a serene atmosphere. This really is a wonderful print.