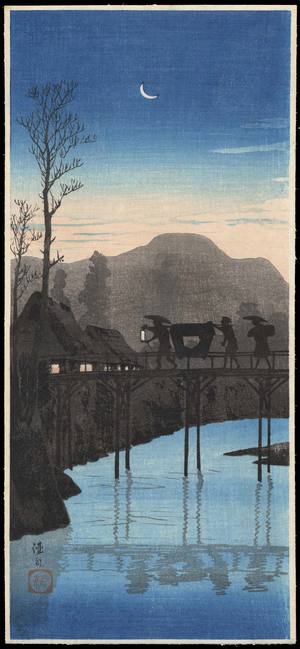 Artist: Watanabe Shotei
Title: Sakawa
Date: 1909
Details & Prices: More information...
Source: Ohmi Gallery
Browse all 2,569 prints...
Description:
M-9 in the Shotei catalogue. This is the pre-earthquake strike. According to Shotei.com, when comparing the pre and post quake strikes (see image below): "The print on the left has Shotei seal "P" while the one on the right has seal "L". According to my rules these are, therefore, a pre- and post-earthquake set. Notice how the moon opens up in different directions. In the 1936 Watanabe catalog, on page 52, is a picture of the print on the right. So, the print on the left is the pre-earthquake version." This item is from my personal collection and is not for sale.