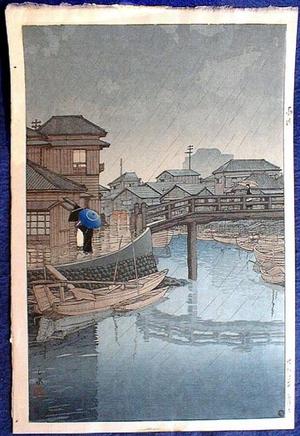 Artist: Kawase Hasui
Title: Rainy Season at Ryoshimachi, Shinagawa
Date: 1931
Details: More information...
Source: Japanese Art Open Database
Browse all 17,130 prints...
Description:
Kawase- Rainy Season at Ryoshimachi, Shinegawa- 1.jpg is: RAINY DAY AT SHINAGAWA , TOKYO Genuine Japanese Woodblock Print. Oban size, Tate-e (vertically aligned print). Not one of the recent reprintings! The Watanabe Shozaburo round seal appears to be the 6mm size.