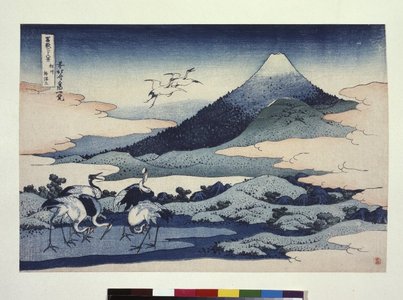 Artist: Katsushika Hokusai
Title: Soshu Umezawa-zai 相州梅澤左 (Umezawa Manor in Sagami Province) / Fugaku sanju-rokkei 冨嶽三十六景 (Thirty-Six Views of Mt Fuji)
Date: 1830-1833
Details: More information...
Source: British Museum
Browse all 9,127 prints...
Description:
Colour woodblock oban print. Clouds of pink-tinted morning mist parting to reveal a blue Fuji; group of five cranes feeding in foreground; another pair flying up into sky in parallel with long slope of mountain. 1 of 3 impressions. Inscribed, signed and sealed.