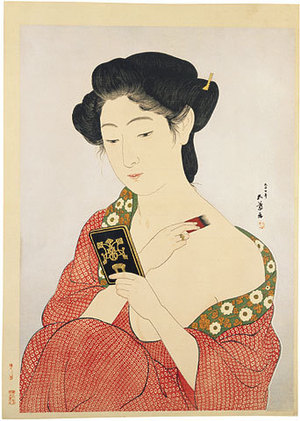 Artist: Hashiguchi Goyo
Title: Woman Applying Powder (kesho no onna)
Date: 1918
Details & Prices: More information...
Source: Scholten Japanese Art
Browse all 854 prints...
Description:
Dated and signed, Taisho shichinen Goyo ga (Taisho 7 [1918], by Goyo). With carver and printer's seals Takano Shichinosuke (carver) and Somekawa Kanzo (printer) on the lower left margin. Maeda Kentaro and Koike Masazo also assisted with carving some of the blocks. Self-published by Goyo in April 1918.