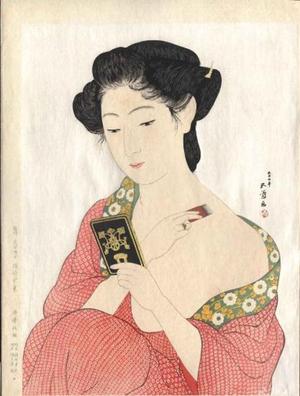 Artist: Hashiguchi Goyo
Title: Woman Applying Makeup- Kesho no Onna — 化粧の女
Date: 1918
Details: More information...
Source: Japanese Art Open Database
Browse all 17,130 prints...
Description:
HASHIGUCHI GOYO (1881-1921) Woman Applying Powder Date: original 1918, this c.1980 Size: very large 13.9" x 18.75" Condition: Very Good, some light soiling on woman's forehead, some light toning on verso that does not effect the image Impression: Fine with gauffrage Color: Fine, with mica background Documentation: The New Wave: Twentieth-century Japanese Prints from the Robert O. Muller Collection, Bamboo Press, page 127. The Female Image: Twentieth Century Prints of Japanese Beauties, Leiden, page 40, Shin Hanga: New Prints in Modern Japan, LA County Museum of Art, Brown, page 31, image 23. Modern Japanese Woodblock Prints, Helen Merritt, page 73. Authentic woodblock print. Showa era impression of the original 1918 print. Exquisitly produced with the permission of the family of Hashiguchi Goyo. Nice texture, excellent color, impression and ink penetration. Low reserve. A woman applying powder, which depicts a young woman putting white powder on her shoulders, was Goyo's second print. His debt to masters of the Kansei era, such as Utamaro is clear, particularly in the use of rich mica in the background and the half-length sensuous close-up depiction of the woman. The use of gold highlights on the mirror and the woman's ring; the blind printing for the chrysanthemum motifs on her kimono border and the bokashi on the kanoko kimono desigh, further add to the richness of this classic print. Such details are also evidence of Goyo's high standards in the carving and printing of his prints. Goyo also reveals his own training in a more realistic tradition in the creation of a subtle three-dimensionality, for example, in the soft pink shading on the young woman's skin. Hashiguchi Goyo was born in Kagoshima and his original name was Kiyoshi. He graduated as the premier student from the Western painting department of the Tokyo School of Fine Art in 1905. Goyo illustrated the magazine Hototogisu during school, and Natsume Soseki asked him to design the cover of his novel, Wagahai wa neko de aru (I am a cat). Goyo also won the first prize in the poster design contest for the Mitsukoshi department store in 1911. In 1916-17 he supervised the reproductions in the twelve volume ukiyo-e fuzoku Yamato nishiki (Japan brocade prints) selections from which I currently have up in other auctions on ebay. Goyo's first print Woman at the bath was published by Watanabe Shozaburo in 1915. After a short time with Watanabe, Goyo decided to publish his own prints, producing thirteen prints before his untimely death in 1921. His nephew, Yasuo, published seven other designs following Goyo's death, from blocks that he had inherited.