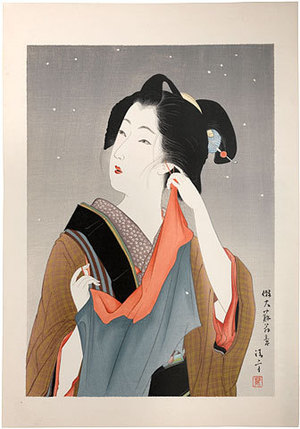 Artist: Kaburagi Kiyokata
Title: Light Snow, Customs of Young Women: Beauty of the Fifteenth Year of Meiji [1882] (Meiji Jugonen Koro no Fuzoku)
Date: 1925
Details & Prices: More information...
Source: Scholten Japanese Art
Browse all 854 prints...
Description:
Signed at lower right corner, Mo Taiso oh i, Kiyokata (copied after the inspiration of Master Taiso, by Kiyokata) with artist's red square seal (unread). Embossed hand-numbered limited edition and carver's seals verso, Nihyaku goju mai gentei, dai ju ni go, Katsumura hori (limited edition of 250, number 12, carver Katsumura). Possibly self-published by the artist, ca. 1925-35.