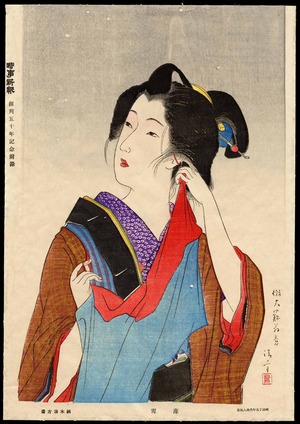 Artist: Kaburagi Kiyokata
Title: Beauty from 1873 - Light Snowfall - 明治十五年代美人風景 薄雪
Date: c. 1931
Details & Prices: More information...
Source: Ohmi Gallery
Browse all 2,569 prints...
Description:
This rare print belongs to a little-known album of bijin-ga prints commissioned by the Jiji Newspaper Company (時事新報) and published as a limited edition, in celebration of the 50th anniversary of the company's founding. The bottom margin contains the print title "Meiji Jyu-Go-Nen-Dai Bijin Fukei", "Usuyuki", and artist name. Artist's signature and red seal lower right.