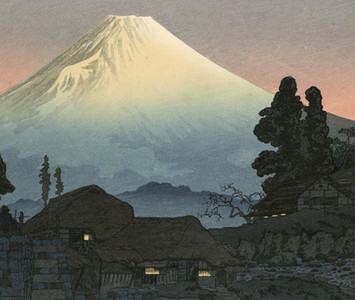 Artist: Watanabe Shotei
Title: Mt. Fuji from Mizukubo, Evening
Date: 1945-1957
Details & Prices: More information...
Source: Robyn Buntin of Honolulu
Browse all 4,310 prints...
Description:
This is one of the most beautiful examples of this particular image of Mt. Fuji at dusk. The summit of the mountain is a bright white against a warm pink sky changing to light lavender. These colors are in dramatic contrast to the dark foreground of the farm village. There is a 6mm Watanabe seal in red in the lower right corner.