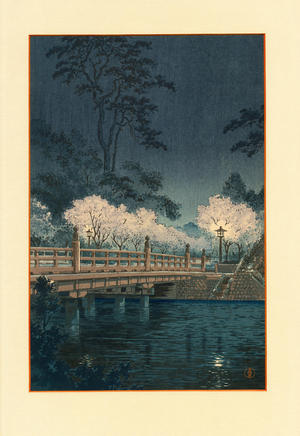 Artist: Tsuchiya Koitsu
Title: Benkei Bridge - 弁慶橋
Date: 1933 strike)
Details & Prices: More information...
Source: Ohmi Gallery
Browse all 2,569 prints...
Description:
Koitsu Raisonne code TK-DH-3. Analysis of the colour palate and frame style indicate this print to be either a pre-war (Doi Sadaichi) or early post-war (Doi Hangaten/Harada/Yokoi) strike. Note that there is no yellow dye around the lamps. Yellow dye was not used on pre-war and early post-war strikes of this scene. The front matte size is 29.7 x 43.2cm.