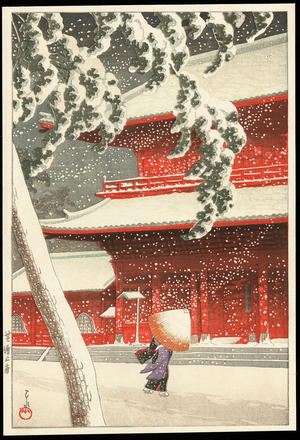 Artist: Kawase Hasui
Title: The Zojoji Temple - 芝増上寺
Date: 1934
Details & Prices: More information...
Source: Ohmi Gallery
Browse all 2,569 prints...
Description:
This is a genuine pre-war variant of Hasui's masterpiece "Zojoji Temple", printed as a first and only edition in 1934. It was included as a magazine supplement, so definitely only a single edition, and due to its extreme rarity (I have only seen a handful of copies in the past decade) the edition was quite small. Its size is about 10% smaller than the original 1925 edition by Watanabe. It is tip mounted to its original magazine black backing and contains a tissue coversheet with an English explanation. The other two copies I have seen were sold for $2,900 (poorer condition) and $3,600. Sheet size is 22.5 x 33cm. Free Express Mail shipping with full insurance. For the serious Hasui collector, this edition is far rarer than Watanabe's original 1925 strike (which was printed in several editions of up to 3,000 copies).