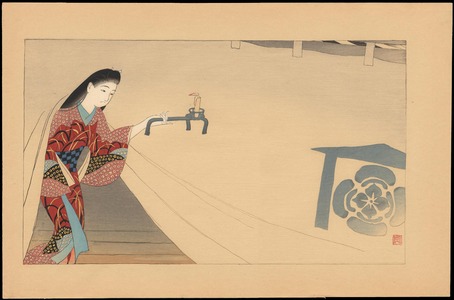 Artist: Ishikawa Toraji
Title: Heroine Toragozen
Date: 1922
Details & Prices: More information...
Source: Ohmi Gallery
Browse all 2,569 prints...
Description:
This print is a genuine Taisho-Era bijin-ga woodblock print from the supplement of "Dai Chikamatsu Zenshu" (The Complete Works of Chikamatsu). It shows the heroine "Toragozen" in the play "Soga". Literature Newland A, Hamanaka S, "The Female Image; 20th Century Prints of Japanese Beauties", Hotei, Leiden, 2000, 90 74822 20 7, - pg. 203, pl.7. Toraji red seal lower right. Carved by Yamagishi Kazue and printed by Nishimura Kumakichi.