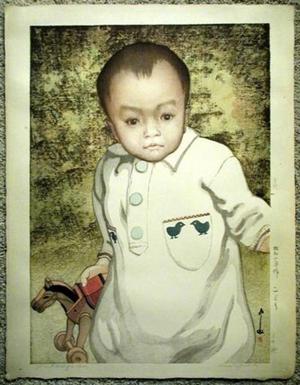 Artist: Yoshida Hiroshi
Title: Portrait of a Boy
Date: 1927
Details: More information...
Source: Japanese Art Open Database
Browse all 17,130 prints...
Description:
This is a genuine original double oban sized shin hanga Japanese woodblock by Hiroshi Yoshida (1876-1950) titled "Portrait of a Boy", dated Showa 2 (1927) pencil signed in English and Katakana in the margin, brush signed and sealed in the image, and titled in English. The print bears Yoshida's jizuri seal (self printed). It is thought that the subject for this print was Hiroshi's son Toshi Yoshida. Toshi was destined to become a master print maker in his own right. The print is in very good condition. Fine impression, excellent registration, excellent color and good bleedthrough. No foxing, toning, folds or creases. The print is not trimmed or setdown. Print size is 17.25" x 22.25". the print is #97 in the Yoshida catalog raisonne. This print is very unusual as it is signed both pencil signed in Engish, and in Japanese.