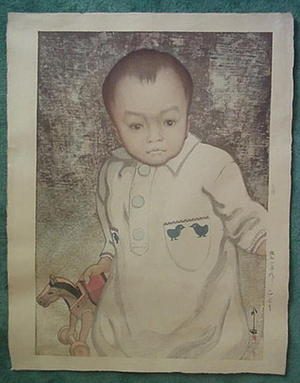 Artist: Yoshida Hiroshi
Title: Portrait of a Boy
Date: 1927
Details: More information...
Source: Japanese Art Open Database
Browse all 17,130 prints...
Description:
This is a beautiful and rare print by shin hanga master Hiroshi Yoshida. It is one of a handful of oversize prints that he did, and one of only two oversize figurals. The print is titled "Portrait of a Boy"; it dates from 1927. The child is said to be his young son Toshi, who went on to be a major printmaker in his own right. It is in good condition, faintly toned, but with excellent color and impression. There are a couple of small tape remnants in the reverse margins. The print is quite large, measuring about 20 x 14 1/2 plus large margins, over double the size of a typical Yoshida print. It has the ji zuri (self-printed) seal, indicating that it is an early edition. It is illustrated in "The Complete Woodblock Prints of Yoshida Hiroshi" as plate 97. The last time this print was at a New York auction, the estimate was $2-3000 (that was in 1990!); I have the catalog for verification, but not the sale sheet, so I don't know what it ultimately sold for. Truly one of Yoshida's masterpieces!