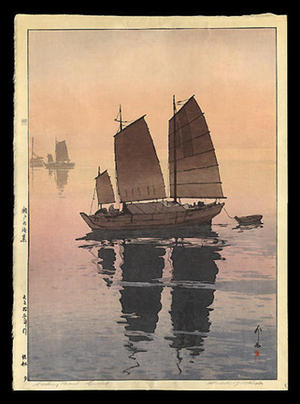 Artist: Yoshida Hiroshi
Title: Sailing Boats - Evening
Date: 1926
Details: More information...
Source: Japanese Art Open Database
Browse all 17,130 prints...
Description:
Offered for sale is a wonderful, block signed Japanese woodblock print by Hiroshi Yoshida (1876-1950), titled Sailing Boats - Evening, 1926, from the Inland Sea Series. This print is illustrated at pl. 44 of The Complete Woodblock Prints of Yoshida Hiroshi, Ogura, Tadao et. Al., Abe Publishing Co., Ltd., (Tokyo, 1987). This is a posthumous printing, and as such, it lacks a jizuri seal. However, it does have a Toku (special) seal in the left margin, which indicates that this print was made to help fund the afore mentioned Yoshida catalogue. Moreover, a lifetime impression of this design, in comparable condition, would cost thousands of dollars. This print is has very good color and condition, although there is a very faint mat line in the outer edges of the margins, paper tape residue along the top and bottom reverse margins, and some crinkling in the top and bottom margins, extending slightly into the image. The image measures approximately 20 by 14 1/8 inches, plus margins.