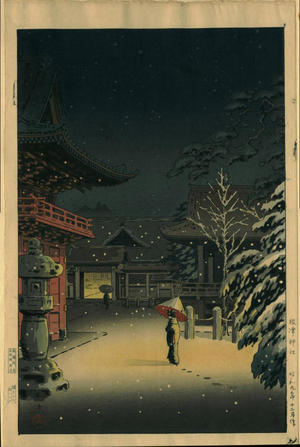 Artist: Tsuchiya Koitsu
Title: Snow at Nezu Shrine (Woman in Snow)
Date: 1950 accurate)
Details: More information...
Source: Japanese Art Open Database
Browse all 17,130 prints...
Description: Harada/Itou "Snow at Nezu Shrine" Tsuchiya Koitsu This is the second, and last, print I have up for auction (I also aquired this by inheritance with the other one). Made in December 1934 by Koitsu, it exemplifies his style of using light and shadow for dramatic affect. Print quality is superb. It has no scratches, brown spots, tears. It does have some ink smears on the margins. The size of the print is 14.25 x 9.5 not including the margins. It is still attached to the original folder and the folder has some tape marks on it, see photo below, but no tears. The colors are vivid and the lines are smooth and even. The seal combination on this print is relatively rare: Doi Hangaten (publisher), Harada (carver), and Itou (printer). A more desirable pre-war print by Koitsu.