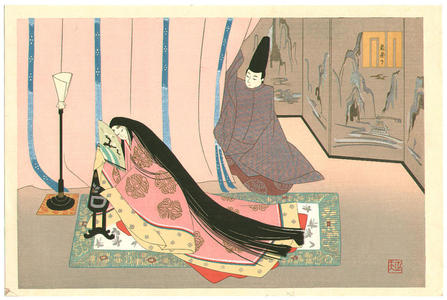 Artist: Masao Ebina
Title: CH35- Wakana
Date: Not set
Details: More information...
Source: Japanese Art Open Database
Browse all 17,130 prints...
Description:
Monday, 5 September 2005 Title The Tale of Genji - Wakana Artist Masao Ebihara active mid 20th C. Seal artist's seal Dated ca. 1950s Technique/Medium Woodblock print Impression excellent … (later edition in 1970-80s) Colors excellent … gold and silver colored metallic pigments Condition excellent - very good … slight toning, slight creases on the margins. Description Illustration for "the Tale of Genji", chapter 35, Wakana (ge). Format Oban yoko-e Width 15.9 inches = 40.3 cm Height 10.6 inches = 26.8 cm artelino # 16117 : Wakana … size of the image-printed area: 377 x 250mm Yours: 304 x 211mm. The prints were consigned without any folios. There are thin areas on the reverse top margin corners of Kocho print which look like the mountings were removed. The top edge of the paper is clean. Wakana print and another one (# 16118: Fuji no Uraba) do not have any mounting remnants on the backside. All three prints have ink stains on the lower left margins corner and the lower margins. So, although #16117 and #16118 do not have any carver-printer info on the left margin, I presume the left and the lower margins were not cut. Kocho print looks a bit newer, without any toning, than other two prints.