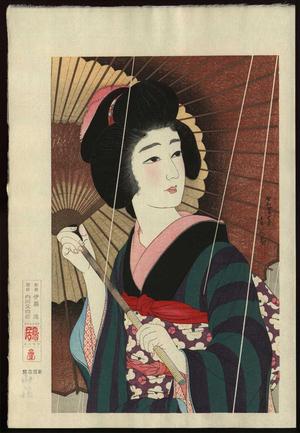 Artist: Torii Kotondo
Title: Ame- Rain — 雨
Date: 1929
Details: More information...
Source: Japanese Art Open Database
Browse all 17,130 prints...
Description:
Artist Torii Kotondo Title Ami (Rain) Medium Original, Limited-Edition Japanese Woodblock Print Date 1929 Publisher Kawaguchi/Sakai Reference No Female Image, # 173 Size 16 x 10 " Notes: Embossed title in the lower margin reads, "Ami" ('Rain'). Dated and signed center right, "Showa yonnen jugatsu Kotondo ga" ('Showa 4 (1929), October, picture by Kotondo'), followed by rectangular artist's seal reading "Torii". Embossed joint publisher's seal in the lower left margin of Sakai and Kawaguchi. Blocks carved by Ito and printed by Komatsu Wasakichi.