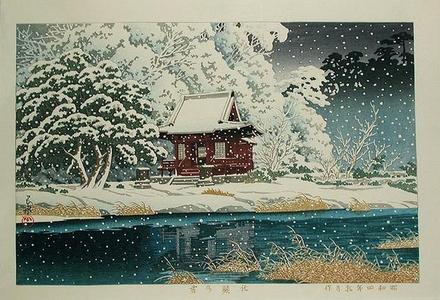 Artist: Kawase Hasui
Title: Snowy Inokashira, Benten
Date: 1929
Details: More information...
Source: Japanese Art Open Database
Browse all 17,130 prints...
Description:
Kawase- Snow at Benten Shrine, Inokashira.jpg is: "Snow at Benten Shrine, Inokashira" -1929 Print size 11." x 16." (Full Oban) Pristine gallery condition. Full margins; never laid down; no tears, folds, creases or foxing. This print is perfect in every way. Good bleedthrough to verso. Complete with HASUI signature and sui (see scan). One of the 16 prints designed by Master HASUI for Kawaguchi and Sakai. The Kawaguchi and Sakai prints are considered by most experts to be among Master HASUI's finest works, particularly the lavish snow scenes. This lovely print is believed to be a later edition struck from the original blocks (circa 1980s). Later editions, however, are not denoted by the publisher, so it is impossible to know for certain. This lovely print is a study in colour and contrast, and one of master HASUI's most stunning snow scenes. The sophisticated printing techniques of bokashi (gradation of colour), and gofun, which gives the image an embossed and almost 3 dimensional feel are used throughout the print.