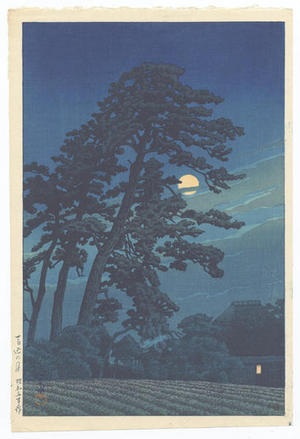 Artist: Kawase Hasui
Title: Moon At Magome — 馬込の月
Date: 1930
Details: More information...
Source: Japanese Art Open Database
Browse all 17,130 prints...
Description:
This is an genuine original Japanese woodblock print by great shin-hanga artist Kawase Hasui (1883-1957) titled "Moon at Umagome" from the series "Twenty views of Tokyo" (Tokyo nijukei, Umagome no tsuki). The print is dated Showa 5 (1930). Probably the most famous Hasui night view - reproduced on the dust jacket of Kendall H. Brown Hasui's catalog raisonne. This print published by Watanabe in 1948 -1950 (lifetime edition), and bears appropriate early 6mm seal on the right lower corner of the image (pay attention on closeup). One from the best Hasui's night views - very romantic. Great impression, fantastic color and registration - excellent condition. Signed by artist Hasui, has seal "Sui" in the image and titled in kanji at the left margin. Oban size 15 1/2" x 10 1/4".